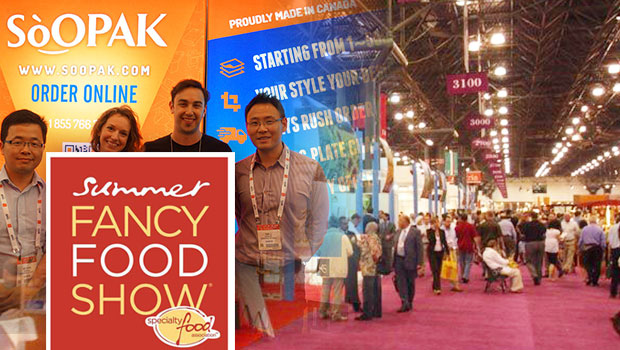 Transforming the packaging market with a low economical price for 500 or more custom cartons
July, 2015: SoOPAK, a leading short-run offset North American packaging specialist, recorded an exceptional display of its innovative food packaging samples and its superb print capabilities at the Summer Fancy Food Show at the Jacob Javits Center in New York City in late June. The Summer Fancy Food Show, presented by the Specialty Food Association, attracted large crowds to the East Coast's largest specialty food and beverage event.
"The Summer Fancy Food Show was a triumphant success for SoOPAK," says YaJun (Carol) Jiang, president of SoOPAK. "Why? Since we were one of the few vendors offering an economic short-run packaging solution to artisanal food manufacturers, our booth was a magnet for those looking for a dynamic, creative, efficient method of safely and quickly transporting all different types of food to the marketplace. Attendees were delighted to learn about our short-run capability; we can produce as little as 500 boxes, plus we offer an expedient 15 day turnaround or as short as five to 10 days with rush turnaround. We also service our customer with custom sizes, style, and artwork to ensure that their product stands out above the others and all at an economical price with no die or plate charges. In today's competitive market, brand owners want to enhance sales by starting with engaging packaging, demanding creative designs and innovative ideas that will generate maximum shelf-appeal. The show allowed us to reflect our company's commitment to fulfilling a critical need in this changing market."
SoOPAK demonstrated its innovation and excellence to food manufacturers who are seeking impactful designs for their food creations. For example, fancy and practical chocolate boxes provide an elegant housing option for delicious chocolates. These boxes serve a dual purpose: allowing for maximum display and security and establishing the brand as a luxury product. Beautiful high quality candy boxes ensure that the quality of the candy is fresh and edible while simultaneously presented in the most appetizing manner possible. Tray and sleeve box packaging feature a convenient sleeve design that allows for quick loading with double wall tray topped off with a creative design and sturdy board. They are perfect for macarons, cupcakes, or candles. SoOPAK's beverage box supplies are designed to provide attractive, secure packaging for the hospitality and restaurant industry. The quality construction of these beverage box supplies are easy to assemble while ensuring that products will hold up well during transit and storage. Tuck-end auto bottom beverage boxes or wine boxes are available and customized brand imagery can be added to increase consumer awareness.
"We, at SoOPAK, offer our expertise from start to finish in this field as a total solution by producing small yet complex packages and increasing the speed to market for these manufacturers," says Jiang. "We were delighted to see some of our North American customers at the show and demonstrate some of our latest packaging solutions that are transforming the market."
SoOPAK is a leading manufacturer of short-run package production starting at 500 pieces. The firm offers custom food packaging, incorporating unique shapes, sizes and styles to meet a food vendor's needs. Equipped with the most high-tech printing and post-press equipment and an experienced team, its products are of the highest quality, and are developed and delivered within 15 business days (or five to 10 on rush orders). Its high level of integration in product capabilities includes in-house prepress services, plate making, UV coating, embossing, and windowing capabilities. SoOPAK's production process is extremely efficient and highly customizable making it the preferred choice for businesses across North America. SoOPAK offers its services to small business owners and large-scale corporations with some of the most competitive prices in the industry.
About Specialty Food Association
The Specialty Food Association is a thriving community of food artisans, importers and entrepreneurs who bring craft, care and joy to the distinctive foods they produce.  Established in 1952 in New York, the not-for-profit trade association provides its 3,000 members in the U.S. and abroad the tools, knowledge and connections to champion and nurture their companies in an always-evolving marketplace. The Association (formerly the National Association for the Specialty Food Trade, Inc.) owns and produces the winter and Summer Fancy Food Show, and presents the sofi Awards honoring excellence in specialty food. Learn more at specialtyfood.com.