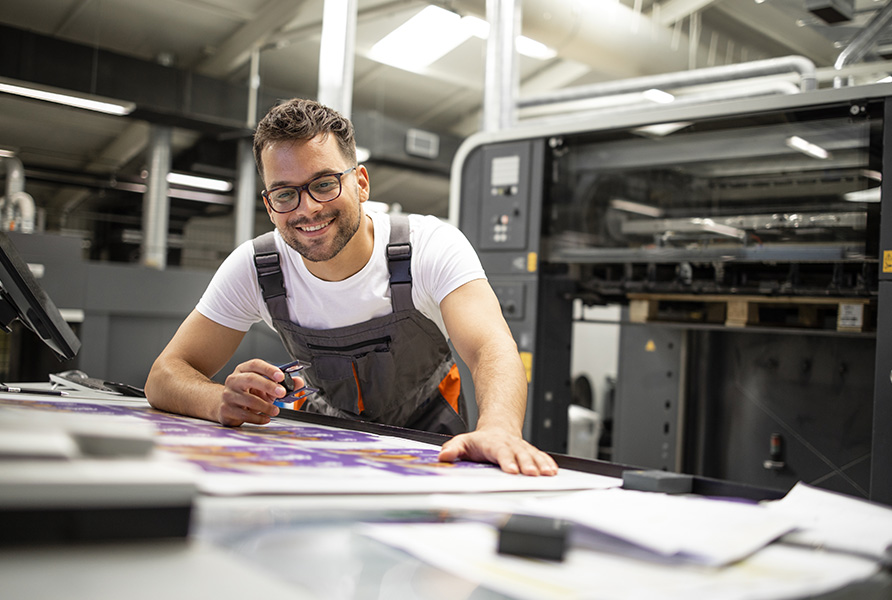 As you design your product packaging and choose a company to manufacture it for you, you will find yourself with several printing options. Each of these involves a slightly different production process and has its own pros and cons.
Your packaging manufacturer can help you choose the printing production process that makes the most sense for your packaging. In the meantime, the following information should give you an idea of which to use.
Flexography
Flexography relies on a sensitive polymer to complete the printing process. It tends to have a quick turnaround time and is inexpensive compared to other methods.
While you can occasionally find this printing method used on corrugated boxes, it is most common for stand-up pouches.
Inkjet (or Digital)
Inkjet printing is reminiscent of a standard printer that you may have in your office but on a larger scale. It is best for smaller scales of production jobs. Its popularity comes from the lack of requirement to create plates and the easy access to the technology. It can also have a quick turnaround time, but it isn't ideal for larger printing runs.
This type of printing process is especially popular for paper products. It is also commonly used on labels, corrugated boxes, folding paper cartons, and films.
Lithography
Lithography relies on printing plates to easily print product packaging in bulk. The process starts by creating the printing plates, which are frequently rollers, as this allows them to print repeatedly. Those plates feature the negative of the image. After creating the plates or rollers, the manufacturer applies ink to the plates and presses them onto the paper.
This is among the most popular options for printing on folding cartons, electronic printing, cosmetic boxes, and more. It is known to deliver high-quality results.
Rotogravure
With this process, you create an engraved cylinder that will let you transfer ink on the packaging. There is an impression cylinder or roller that presses the paper or film onto a gravure cylinder that has already been covered in ink.
While this printing method is still primarily found on stand-up pouches, it is expanding into folding cartons as well. That being said, this method is much less common than the others.
Silkscreen
With silkscreen printing, you essentially use a stencil to apply the desired design. The manufacturer creates a stencil using a thin, strong material, then sprays, rolls, or rubs ink or paint through the cut-outs to create the desired design. This is a slower process than some of the others, and it is not good for high-quality images or high volumes.
Silkscreen printing is most common on promotional items, folding cartons, labels, and prototypes.
How to Choose
As mentioned, your packaging manufacturer can likely help you choose which printing method is ideal, and they will typically focus on a handful of different methods. Digital printing is best for those on a small budget with a fast turnaround time and a need for photo-quality graphics. Rotogravure is great for high volumes and photo-quality graphics. The same is true for lithography, but it also has the added benefits of being affordable and fast. Flexography is also incredibly popular thanks to its high-volume or low-volume abilities, low cost, and fast turnaround.