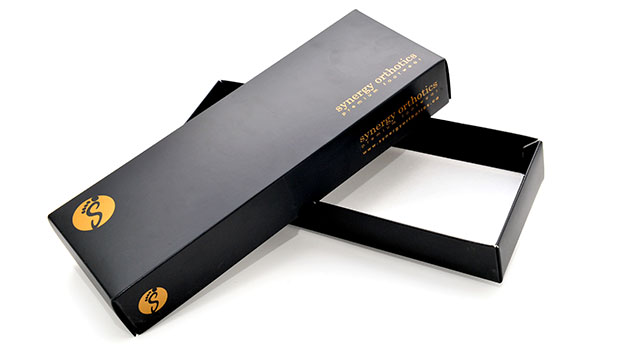 Many clothing items need to be sold in some sort of packaging. Women's hosiery, for example, come in a variety of packaging types, from plastic eggs to paperboard envelopes. Some things come wrapped with a paperboard sleeve, or in a poly bag with a paperboard header. You may have an apparel item that needs packaging, but you're not sure just what to choose. It could be that two or three boxes would work, but you want to choose the best one. How do you go about doing this? Let's figure things out.
The Item
The apparel item itself will help make much of the decision on what type of packaging you choose. If you are the maker of women's bras, you don't want to poly bag them and seal the top with a header. Women try on bras before they buy, so you don't want your line of bras to be displayed in a sealed unit. However, this can work for hosiery. Hosiery isn't tried on at the store, so it can be in a sealed container. Our Apparel Headerbox can work for socks, and some nylon hose. The Apparel Sleeve works well for bundles of socks, leotards, or winter scarves.
Size of Apparel
The size of the apparel item factors into your decision about the right packaging. Large or bulky items don't often package well and should probably be left to hang on hangers or on a hook of some type, or be folded and displayed on shelving. Apparel items that can be folded flat or are small are the logical choice to display in packages.
To Show or not to Show
Something to consider when choosing an apparel package is whether or not the clothing item needs to show and/or extend out of the packaging. With most items, the purchaser probably wants to see and feel the material of the item. Some standard clothing items, such as men's underwear, are so universally similar that they can be poly bagged, or packaged in paperboard boxes with just a good color photo of the item on the box. But with most items, people want to see what the cloth feels like—if it feels like good quality or cheap, whether it is heavy or light, scratchy or soft. It's important also to be able to see the color of the garment, unless it's white men's underwear or t-shirts. So choose a packaging option that will allow the customer to view the product in the package.
Display or Take-home
Another point to consider is whether your apparel item will be displayed in the packaging only, or if there will be a hanging display sample, with the purchase product packaged on a shelf below. Think about men's neckties. A store can set up a display of several samples of the ties, but with the ones for sale retained in the packages on the shelf. This happens in the shoe department as well. When this is the case, the product doesn't have to be able to show out of the packaging, because it can be seen in the display.
Our team of experts will be happy to work with you to choose just the right apparel packaging option for your garment.