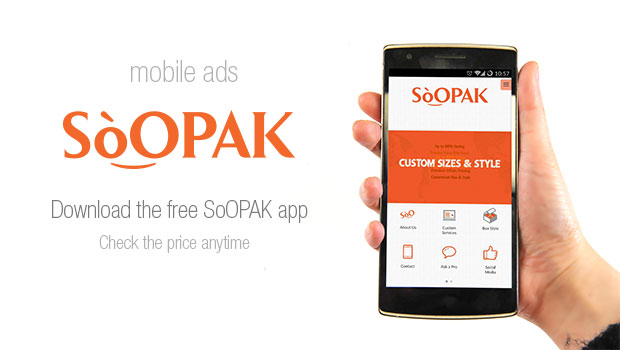 Our team at SoOPAK is pleased to announce that we now have an application available for both Android and iOS. Throughout the last few months, we have been closely working with a team of application designers to create this convenient app that is easy to use and aesthetically pleasing. Those familiar with our website will find the navigation of the app to be very intuitive.
The Application
Our new SoOPAK application, available from Google Play and the App Store, is designed to make business easier for our clients. We understand that life can be hectic at times, which is why we decided to create this application. You no longer have to rely on our standard website's ability to load on your mobile device or worry about limited features. Reviewers love the intuitive layout of the app, which greatly resembles various aspects of our official website that you know and love.
Easy Access
The goal when creating our SoOPAK application was to make it easier for our clients to access our website. Instead of having to navigate to our website on your mobile device's browser and hope the entire page is displayed, you can now easily view relevant information at the click of the button. This new app means that instead of spending minutes creating an order or checking your order details, it will only take seconds to do so.
You will find all of the same features on our mobile app that are available on our website. This includes information about our company and the ability to search our products by box style or other factors. You can even learn more about our custom services or place an order. The app also makes it incredibly simple to contact us or talk to a packaging pro at the touch of a button.
Best of all, you don't need to have your bulky computer with you in order to get the most from our website anymore. As long as you have a smartphone, tablet, or other mobile device, you can take advantage of all of our products and services on the go.
About SoOPAK
SoOPAK is a Canadian custom packaging firm that specializes in short-run packaging. This allows us to meet the needs of every business, whether you are looking to test out a packaging design before placing a large order or are simply smaller and require fewer boxes. Because SoOPAK specializes in short-run orders, we are able to offer packaging at a significant discount compared to other producers. In fact, you may even pay 60 percent under the market rate. We at SoOPAK also pride ourselves on our fast turnaround service, providing you with your packaging in just 15 business days in many cases.
Custom packaging from SoOPAK can truly make a difference for your business. It will help your product stand out from the competition. Our specialization in short-run packaging means you can test a design before fully committing and placing a larger order. We offer packaging for dozens of industries in as many different styles, leading to limitless possibilities, particularly when you consider all of the custom packaging options.