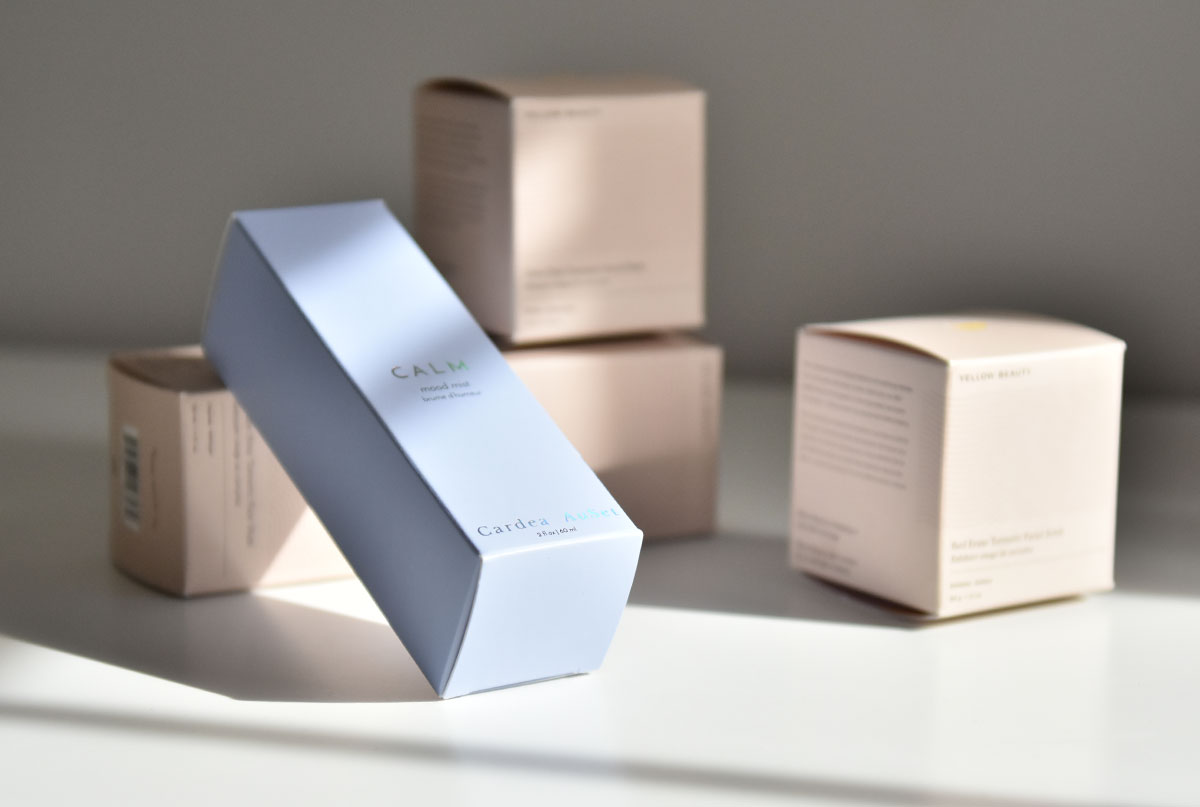 As you plan your product packaging, you will have a lot of decisions to make, including what type of coating to choose. Take a closer look at some of the coating choices available when designing a custom box, and determine when each type of coating makes sense.
AQ (Aqueous) Semi-gloss
AQ semi-gloss finishes are especially popular for those on a budget. It is also frequently food-safe because the coating is water-based. It delivers some extra texture on the packaging, but the low gloss sheen is minimal enough that it won't be distracting. The combination of its affordable pricing and effectiveness makes AQ the default for most product packaging.
Low-gloss Varnish
Low-gloss varnish is a popular choice if you want to enhance your box and provide a coating but can't spend too much or prefer a less obvious coating. It is an especially popular alternative to going without a coating at all. Low-gloss varnishes are growing in popularity thanks to the rise of unboxing videos.
Lamination
Laminating the packaging materials involves putting a plastic coating over the entire material. It adds a layer of protection and a slight sheen. Lamination is highly protective and considered one of the best quality options. It is especially impressive at protecting your product and packaging against moisture. And because of its longevity, lamination is a good choice if you aren't sure how long it will be until your boxes are used. However, it is usually more expensive as well.
Matte Lamination
If you sell a luxury product, you should strongly consider matte lamination. This coating is incredibly common on luxury packaging and is associated with elegance. It also works very well with special processes, such as spot UV, foil stamping, or embossing.
Soft Touch
Soft touch coatings are particularly popular for luxury products and other items like book covers, paper and corrugated boxes, and paper bags. This coating is fast-drying and maintains the quality of the color in artwork. And as the name implies, it is soft to the touch. Of the various soft touch finishing options, soft touch coatings are the most economical.
Soft Touch Lamination
There is also a finish called soft touch lamination, which is bonded onto the printed paperboard surface. With this finish, you get the benefits of lamination along with a soft touch. As such, it is more expensive.
UV (Ultraviolet)
UV coatings are a popular option if you want the glossy appearance of lamination without actually using lamination. UV coatings are more environmentally friendly. UV is also more affordable than lamination and is faster to produce. That said, lamination is stronger and more tear-resistant, providing better protection for your product.
None
Of course, you can also skip the coating entirely. This is a particularly popular option for the outermost layer of product packaging or boxes used to ship your products.
Conclusion
You have many choices for coatings when it comes to your product packaging. If you aren't sure which coating makes the most sense for your product and budget, ask your packaging manufacturer and put their expertise to good use.