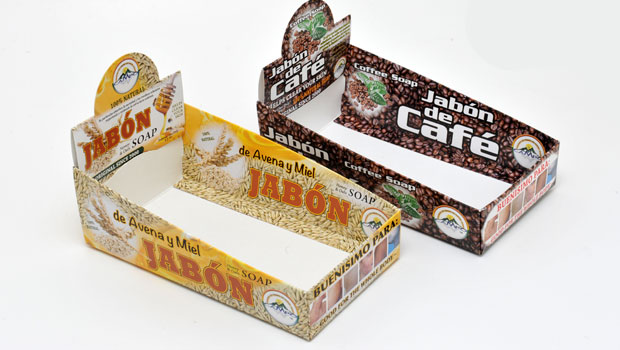 When your product is of the kind that lends itself to being displayed on top of a counter, maybe by the register, or on a display counter, you want the box to be not only functional, but especially attractive and eye-catching, too. These are prominent places where customers readily see the merchandise, and the more attractively it is displayed, the more likely they will be to stop, look, and probably buy. What can you do to draw positive attention your merchandise display? Here are a few tips.
Select an Appropriate Product
Not all products lend themselves to being featured counter display items. Choose pretty, useful, seasonal, faddish, or impulse items for your counter display merchandise.
Select the Appropriate Display Method
Different products require different display methods. Jewelry is most often displayed on a countertop spinner. However, cutesy little girls' bracelets made of plastic can be displayed in a cardboard display unit on top of a counter or a shelf unit in the children's department.
Select the Appropriate Display Box
Our selection of display boxes will yield the one that is just right for your product. Our Double-wall Tuck Top box opens and folds into a shape that holds your merchandise, and provides a header that is printed with your product's information. There are several sizes and styles of this box, so you'll be sure to find the right one. Or we can custom make one to your specifications.
Select the Appropriate Artwork
Design your display box so that it is colorful and eye-catching. The design you use depends entirely on what the product is. If the product is a selection of dainty ceramic ring boxes, you'll want to choose elegant tones and a classy design. But if it's a box to hold yo-yos, you'll want bright colors and graphics of the yo-yo and maybe a child playing with the yo-yo. Whatever your product, choose graphics and colors that are appropriate for the product, the target market, and the type of store it will go in. You may make one design for a product going into the Dollar Tree and another to go into Macy's. Either way, you should use a picture of the product on the display box and incorporate it into the overall design. Our graphic artists can help you if needed.
Select the Appropriate Typeface
The same principles apply to choosing a typeface for the printing on your display box as for choosing the artwork. The typeface must not only reflect the mood of the product, but also blend with the artwork. Many graphic artists consider the typeface as part of the artwork, and indeed, done properly, it is. You would not choose a funky, childish typeface for an elegant ladies' perfume, nor would you choose an elegant script for a display of wrenches.
Color
Color was mentioned in Tip #4, but it deserves its own space. Color is extremely important in advertising. Carefully consider the colors you choose to use on a display box. Color can make or break your overall effect. Consult an advertising professional, research online, or talk with a color expert if you wish to maximize the small space you have to pack the biggest punch in your product sales.